Articles By...
and About the Diggers
From the beginning, the Diggers attracted media attention, despite (or perhaps due to) their early success at remaining virtually anonymous. The early articles and notices that appeared announced some of the first Digger events in the fall and winter of 1966: the Death of Money parade; the Intersection game; the New Year's Wail. Some of these notices appeared in the Berkeley Barb, the premier underground paper in the Bay Area. Others appeared in the San Francisco Oracle which was the Haight-Ashbury community's answer to the Barb and other more political papers. Even more tidbits can be gleaned from the pages of the "aboveground" press. The San Francisco Chronicle's jazz and pop music critic, Ralph Gleason, whose weekly articles are a good documentary of the "new community's" development, was especially sympathetic to the Artists Liberation Front and later the Diggers.
I will try to present these articles in chronological order, but the order in which I transcribe them will be somewhat peripatetic. I would suggest that regular readers use the What's New page to find additions to this collection as they become available.
Index of Articles
By and about the Diggers
The early articles that appeared in the Berkeley Barb reported the first public acts the Diggers carried out in the Haight-Ashbury in the fall of 1966. What is most interesting is that members of the Diggers wrote several of these articles. "The Ideology of Failure" was the first time the phrase "do your thing" appeared in print. This article represents the Diggers' ideas in full bloom. Here we see the reason the Diggers came to loggerheads with the Artists Liberation Front that summer. We also watch as they throw down the gauntlet of Free to the new community in the article, "In Search of A Frame." And we read the formulation of the Diggers philosophy: "To Show Love is to fail. To love to fail is the Ideology of Failure. Show Love. Do your thing. Do it for FREE. Do it for Love. We can't fail."
"Burocops Proboscis Probes Digger Bag," Berkeley Barb, Oct. 21, 1966.
"Delving the Diggers," by George Metevsky, Berkeley Barb, Oct. 21, 1966.
"Diggers New Game; The Frame," Berkeley Barb, Nov. 4, 1966.
"The Ideology of Failure," Berkeley Barb, Nov. 18, 1966.
"In Search of a Frame," Berkeley Barb, Nov. 25, 1966.
"In The Clear," San Francisco Chronicle, Nov. 30, 1966.
Innerspace Magazine #3, December 1966.
1967
1968
1969
"There Is a Great Deal To Be Silent About," interview of Emmett Grogan in International Times, Apr 11, 1969.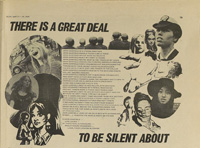 "There is a great deal to be silent about" by Emmett Grogan, International Times, 4/11/1969.