The 60s Date Machine and SF Digger Chronology
Chronologies are an important but often overlooked tool in writing history. Getting the facts straight begins with having accurate dates. This is my attempt to research and present a chronology of the events in the Sixties. Along the way,Replica Watches I ran into the age-old problem that historians have long pondered in building a chronology: what to include and to exclude. For example, the Digger chronology should include the history of the Artists Liberation Front, but what about the Fillmore Auditorium and the San Francisco rock 'n roll scene? What about general Sixties events, or the New Left? Civil rights movement? At a certain point, the original intent of presenting a chronology of the Diggers becomes diluted and overwhelmed by the other threads in the tapestry of time.
My solution was to create The Sixties Date Machine, a database that contains all sorts of events, from JFK's assassination to the Merry Pranksters, from Free Store to Free Huey. The database includes multiple keywords attached to each event and is searchable such that the user can create her or his own chronology. I had search pages up for several years, but then decided to shift emphasis and present the chronologies relevant to Digger history. The bigger chronologies will have a secondary place on the web.
Please use the feedback form to send any suggestions of events I'm missing. Thanks for your patience while this feature gets finished. And thanks to Michael Doyle whose preliminary work is currently included in this chronology. (--ed.epn. 2005)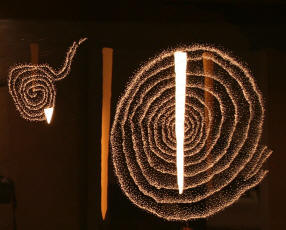 Chronology is one of our species oldest inventions. Photo of Sun Dagger calendar at Fajada Butte, Chaco Canyon, New Mexico.