A People's Hxstory of the Sixties
To assure that our hxstory survives the inevitable tendency of revisionism, it's critically important that we grow our own versions of what happened and why. This section of the Digger web is for recollections, memoirs, hxstories of the Digger movement and the rise of the Sixties counterculture.
We have six chapters from Peter Coyote's memoir of the Sixties (published as Sleeping Where I Fall, here as Free Fall Chronicles). We also have Ramon Sender Barayon's Home Free Home, a detailed and beautifully written hxstory of the Morningstar and Wheeler's Ranch free land communities. There is an article on the Artists Liberation Front, and a section for Oral Hxstories.
For any social movement, there is a buildup, a prelude. The San Francisco Bay area provided a fertile ground for the growth of new movements: artistic, political, social, and cultural. The Diggers seemed to combine all these elements in their ideas, and presented a message that appealed to hippies and revolutionaries, to priests as well as poets. The following topics mark the digger movement's birth and rise in the midst of the turbulent social hxstory of the mid-to-late sixties.
Seeds (1955-65)
Sprouts (1965-66)
Flowers (1966-68)
New Seeds (1967 on)
Digger Resonance
Hxstorical Praxis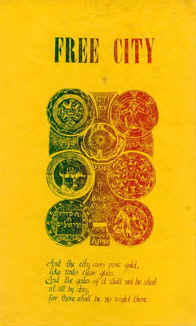 Cover sheet for the first of the Free City News compilations. The Free City Collective used the same Gestetner machines that the Communication Company had been printing on from January to August, 1967. They published Free City News from Fall, 1967 to Spring, 1968.