Highlights of the Digger Archives:
Contents
Over the years, there's been much feedback from visitors to the Digger Archives web site. Some have used the site for school research, some for dissertations, some for books, some for media studies, etc. etc. There is much more in the online archive than is listed below. Just follow the links on the top entry page. But the items below are special—at least for the person who built this site.

Videos (oldest to most recent)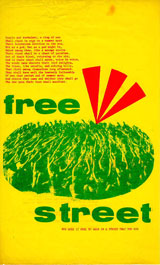 One issue of the Free City News sheets, distributed in San Francisco, 1967-68.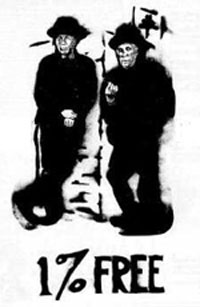 Shown above is the "1% Free" poster that first appeared as wall sized posters in the Winter of 1968 and became a Digger trademark for the last cycle of street events. Various interpretations of the poster's cryptic symbology evolved. One interpretation which gained a certain infamy/popularity was that merchants and rock bands were expected to contribute 1% of their receipts to the Free City Bank to fund various activities such as the Free Food Distribution system.